As you read this, hundreds of turnkey business applications are up and running right now under APPX. Virtually every business process is ready and waiting for your customization. General Ledger, Budget Analysis, General Subsidiary, Accounts Receivable, Accounts Payable, Purchase Orders, Inventory Control, Order Entry, Commission Accounting, and Sales Analysis.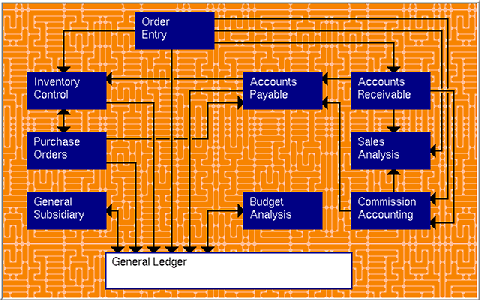 All of these applications are ready and written in APPX. All are easily modifiable and maintanable, offer unsurpassed security and functionality, and provide for a standardized interface. With APPX's 4GL technology and comprehensive applications, you put a powerful ally to work for your business.
Your Unique Requirements
APPX makes it easy to provide for your company's specialized requirements. Each application can be readily customized during initial installation, and promptly modified as your requirements evolve.
Security and Navigation
APPX security is comprehensive and easy to maintain. If you desire, security profiles can be defined to restrict user access to specific components of the system. To enhance the utility, easy-to-use operational assistance is uniformly available throughout the system. As an option, users can be permitted to access ad hoc reporting capabilities, such as the ability to modify report presentation, content, and processing options as reports are run.
Menu-Driven and Standardized Interface
All APPX business applications are menu-driven and include on-line documentation to the field level. Keyboard definitions and capabilities are uniform from application to application. All data is validated upon input, and standard error messages are consistent and easy to understand. Also, many error messages include individualized problem descriptions. This "family" approach to applications creates a standard interface that minimizes system user cost, learning curves, and cross-training.
Configuration
Applications can stand alone or combine into complete, fully integrated accounting systems. Each application contains a Parameters master file with options for customization. For example, you may specify fiscal year and current period definitions, 12 or 13 period accounting, and the amount of history to be automatically maintained in a file. Applications operate in three distinct phases: Initial Setup, Live Operations, and Recovery Processing, with appropriate functionality and security established for each phase.
Transaction Processing
Data is input, journalized, and posted by Operator ID/Control Group, with optional control and hash totals for each group. This design permits multiple operators to input, journalize, and post data from the same file concurrently without conflict. Operational control group processing is recorded in a Transaction Control file for audit purposes. Rapid entry options provide an alternative to standard transaction entry. By requiring less data to be input, rapid entry hastens the entry process for routine transactions. Prior period and future period postings can be permitted. Each application's accounting period is closed independent of other applications in the system. A recurring master file stores data for routine transactions. A single option key generates transaction entry records based upon this file.
Audit Trails
Journals of entered data provide a thorough, detailed audit trail. General Ledger summaries by account are provided on each journal.
Design Commonalities
The account number structure is defined by the user, including the number of components and component names, lengths and positions. Parameter options adapt the function and operation of the software to satisfy the unique requirements of each installation. Transactions posted in any APPX application are optionally maintained by account and user-defined subsidiary code in the General Subsidiary application. This integration provides a general costing capability and a flexible extension of the account number structure. Intercompany transactions are tracked, and a report of these transactions is provided. Data from multiple companies can be combined into a single company prior to preparing consolidated financial statements.
---
System Control
APPX System Control is a starting point for users and a general reference repository for designers.
Accounts Payable
Accounts Payable by APPX brings order to cash flow management, providing the information and flexibility to control individual expenditures.
Accounts Receivable
Understanding all aspects of your outstanding receivables, and analyzing individual and overall performance are the major components of cash flow management. Accounts Receivable by APPX makes this possible.
Budget Analysis
Budget Analysis by APPX provides the powerful budget-creation, manipulation and reporting capabilities you require.
Commission Accounting
The APPX Commission Accounting application collects, maintains and processes commission data. It generates historical analyses of both commissions and salesperson performance.
Fixed Assets
Fixed Assets by APPX provides for the maintenance and reporting of asset depreciation and contract amortization. The application is designed to calculate and print depreciation schedules and reports based on data entered through file maintenance programs.
General Ledger
Detailed, organized data is the basis for evaluating past performance, discovering potential problems, and developing stategic plans. General Ledger by APPX provides the flexible access to relevant, current data required for effective and meaningful action.
General Subsidiary
Operating a business demands precise attention to detail. The challenge is balancing the need for detailed data with demands for simple, streamlined information systems and then remaining responsive to change. General Subsidiary by APPX can help.
Inventory Control
Ultimate profitability depends on fast and effective inventory management. Inventory Control by APPX is an integrated, productive approach to this complex activity.
Order Entry
Order Entry by APPX can be a strategic tool in providing high quality client support. It affords immediate access to customer, inventory and order data - with the individualized processing capabilities and customer communications to satisfy any level of demand.
Payroll
Precision in payroll is vital. The way business works - with complex employment contracts, union and minority requirements, 401K plans and fringe benefits - accuracy-on-demand is a necessity.
Purchase Orders
Purchase Orders manages requests for quotes, purchase orders, debit and credit memos, product receipts and related invoices. The application's reports and inquiries analyze purchase and pricing history, and the status of pending orders.
Sales Analysis
Ready access to information, product profitability, customer activity, individual and regional performance, and lost sales volume can mean everything to a company. Sales Analysis by APPX puts this level of critical knowledge at your fingertips.